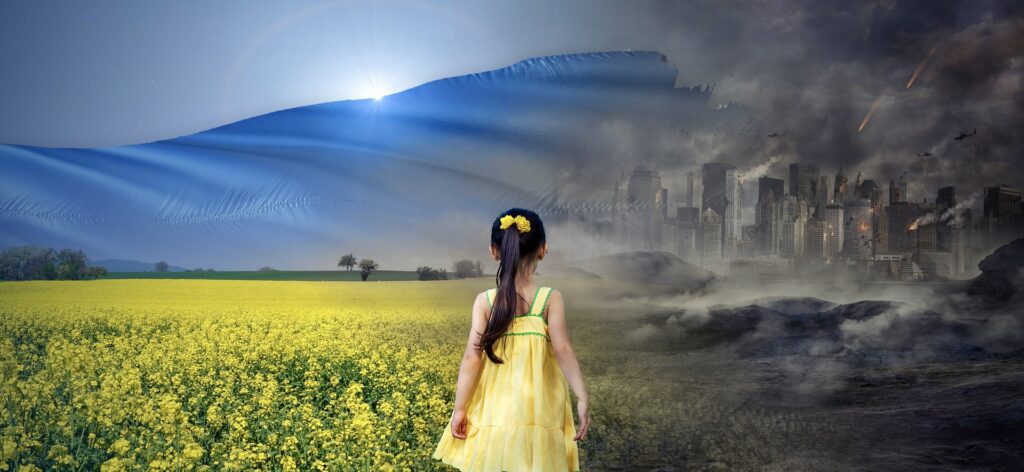 We have proven our strengths. We have proven that at a minimum we are exactly the same as you are. So do prove that you are with us… that you will not let us go… and then life will win over death; light will win over darkness. Glory be to Ukraine. – Volodymyr Zelenskyy, President of Ukraine, March 1, 2022
As many of you know, Ukraine-Russia relations feature heavily in The Broken Series. I thought I would share why I chose to weave this conflict into my novels, and why I feel we should stand with Ukraine now. I think this video is the perfect place to start. Please take a minute to listen to President Zelenskyy's appeal to the EU. You might want to grab a tissue.
Some background information on the revolutions President Zelenskyy is referring to in this speech. The Orange Revolution was waged after a run-off vote for president in 2004 that was marred by corruption. The Ukrainians voted for the pro-western/pro-democracy candidate Viktor Yushchenko, who survived an assassination attempt (dioxin poisoning) while running against Putin's preferred candidate, Viktor Yanukovych. Yanukovych was announced the winner, despite credible exit polls proving Yushchenko won. Over a million citizens poured into the streets of Kyiv every day until a free and fair election was held. Yushchenko (the pro-democracy candidate) won. The Orange revolution came to a peaceful end. No blood was spilled.
Sadly, Kremlin-backed Yanukovych secured the presidency in the next election. He imprisoned his political opponent Yulia Tymoshenko, who co-led the Orange Revolution, and he suspended the signing of the EU-Ukraine Association Agreement. That agreement forged stronger economic, social, political, and cultural ties between Ukraine and the EU. Yanukovych chose to strengthen ties with Russia instead, despite the Ukrainians' deep and long-standing desire to become a member of the EU and NATO. The EuroMaidan revolution (aka Revolution of Dignity) followed. More than a hundred people were killed during the protests. Yanukovych fled his palace, but not before he and his cronies absconded with $40 billion in state assets. They currently live in Russia.
Ukraine's former president Petro Poroshenko (pro-democracy) and current president Volodymyr Zelenskyy (also pro-democracy) are both fighting in the streets alongside the citizens of Ukraine to defend their country against Russia's brutal, unprovoked war crimes, which can only be described as a David and Goliath fight. As I write this, international news outlets are reporting that Putin plans to replace President Zelenskyy with Yanukovych, the Kremlin-backed criminal who stole billions from the Ukrainian people before fleeing the country in 2014. I should note this is not the first time Putin has attacked a neighboring country and installed a puppet regime (see, e.g.: Belarus, Chechnya, Abkhazia, and South Ossetia). This is his modus operandi. I share this because I want people to understand how long Ukrainians have been fighting to end Putin's meddling in their government, how desperately they want to align themselves with European countries, and how determined they are to fight for freedom and democracy.
Why do I care? I taught conflict resolution in Ukraine in 2003. I also conducted research in Ukraine for the International Peace Research Association. I currently teach Conflict Resolution, NATO, and Human Security (just to name a few classes) for the American Military University. I have followed Ukraine's progress and the challenges they have faced for decades. I am well aware of the tactics Putin has applied to undermine their democracy. He has applied those same tactics in twenty-seven other democracies, including the United States. He has made clear he will not stand for any NATO ally or NATO country on his border. If he takes Ukraine, there will be four NATO countries on his new, illegally acquired border. He will pick them off one by one, two by two, or altogether by shutting off their fuel, by applying economic warfare, political warfare, cyber warfare, and information warfare (just like he did in Ukraine). He will weaken them, and he will demand they leave NATO. If they do not comply, he will intervene militarily. If they do comply, he will demand they relinquish their militaries (the same demand he has made of Ukraine). He will force them to abandon trade agreements with other democracies, including the United States (just like he did in Ukraine). Once he gains control of these countries, he will apply the same tactics to gain control over the NATO countries on their borders. He will seize control of Europe and the Arctic region. Our world will remain a unipolar world but with Putin at the helm. Meanwhile, Putin will continue to disseminate propaganda fueling tribalism and social unrest in the United States. He will apply political warfare, economic warfare, cyber warfare, and will continue to threaten us with nuclear weapons until we submit. He has developed a nuclear weapon with advanced antimissile countermeasures designed to penetrate the U.S. missile defense shield aptly named Satan 2 (aka RS-28 Sarmat), which travels at 16,000 mph and carries 10 large warheads, all of which can target different locations. This weapon will be loaded into 50 ICBM silos this year. According to Military Today, "a single RS-28 missile with MIRVs can completely destroy three U.S. states." This is what lies in the balance. This attack on Ukraine is only the beginning. Listen to President Zelenskyy's other speeches issued over the past several days. He knows it isn't just the Ukrainians' he is fighting to save. It's us. All of us.
And that is why I stand with Ukraine.