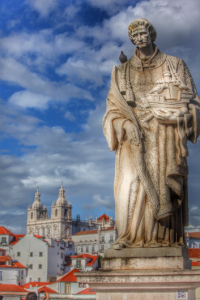 In Broken Together Rafael takes Kristine to Portugal, where he reveals a closely guarded secret. Kristine falls hopelessly in love with Portugal. Is it any wonder? Majestic castles and intricately carved churches are nestled like jewels among white-washed limestone buildings and red clay roofs that spill into the ocean from the hillsides of Lisbon. The cobblestone roads are more appropriately labeled a medieval maze than passable streets. Art is everywhere, within the Moorish, Romanesque, Baroque, Renaissance, and Neoclassical architecture; in the hand painted tiles and tile murals adorning most of the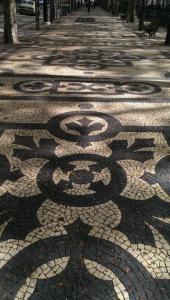 buildings; and in the black and white mosaic tiles that form elegant designs within the sidewalks beneath your feet. The decaying buildings in the impoverished areas are no exception. These post-apocalyptic looking buildings boast magnificent displays of urban art. Lisbon doesn't simply depict art; this city IS art.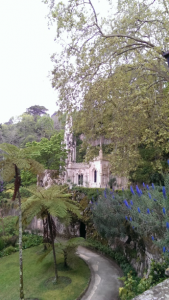 A thirty minute train ride will whisk you away from this artful city and promptly deposit you into Sintra, a seductive soiree of magical forests, castles, palaces, and palace gardens. You're left wandering slack-jawed through a fairytale novel, where you'll discover delicate arches carved as finely as any filigree necklace at Monserrate Palace. Those arches sit atop an endless array of elegant columns with floral capitals. The hallways, ceilings, balconies, and stairways are carved with such exquisite detail it will make your heart ache. At Regaleira Palace the mysterious underground tunnels between the grottos, caves, initiation wells, and chapel marked by the Knights Templar will tempt and tease your imagination. The gardens surrounding these palaces are filled with unfathomable beauty. Tendrils of fog wind around the majestic Pena Palace and through the lush forest that holds equally intriguing mysteries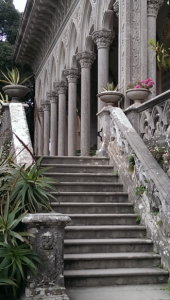 Can't get enough of the palaces? Go spend the night at Obidos Castle. Want to learn more about the Knights Templar? Visit the City of Tomar. Want to explore another fascinating city? Visit Porto. Prefer to kick back and relax for a while? Escape to Cascais or the Madeira Islands. There are so many fantastic experiences awaiting you in this country, experiences that are truly unique to Portugal. Rest assured, the people of Portugal will take very good care of you. They take service and hospitality to a whole new level. Most everyone speaks English, and the menus are printed in multiple languages.  If you look even remotely lost, someone will stop to ask if he can help you, and he won't just offer directions. Oh, no. He will quite likely walk you where you need to go.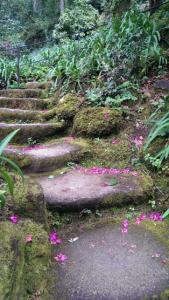 Portugal belongs on the short list of places you long to visit. Their hotels, transportation, and food (don't even get me started on the decadent pastries, the bica, and the seafood) are surprisingly affordable; so I'd bump Portugal to the very top of that list. Consider yourself warned, though. You will lose your heart to this country, just like Kri and I did!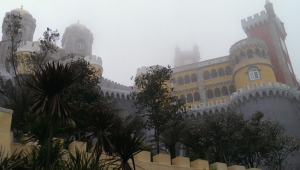 Photographs by Kari Kunkel-Anderson and K.S. Ruff.
All rights reserved.